09/24/08
MY WORD IS MY BOND: THE AUTOBIOGRAPHY
by ROGER MOORE
In the Telegraph on September 23, 2008, the article Roger Moore: I'm the worst Bond, apparently, kicked off the marketing campaign for MY WORD IS MY BOND: A MEMOIR by ROGER MOORE
Publication is October 2nd in the UK.
09/23/08
THE BOY IN THE STRIPED PYJAMAS (FILM TIE-IN) John Boyne
简体版权已售出
繁体版权已售出
PROMOTIONS
• Telegraph Family Book Club (6th sept). ½ page feature and online reading notes and feature – including £500 book prize plus premiere tickets
• Competition on www.waterstones.com to win pair of premiere tickets to run 1-7 September
• 5 chapter sampler free with Evening Standard on 4 Sept, includes page advert for books tagged with Watertsone's 3 for 2 offer
• Promotion with Borders and Vue Cinemas. Borders 50% off offer on posters and leaflets in Vue cinemas and Borders to display bookmarks and posters in-store and promote offer online
• Review in Bliss magazine
• Classic pbk packshot featured on bookmark holders
• RH logo and 'Based on the novel by John Boyne' line on all film POS and advertising
• Film Education notes produced by Miramax and sent to schools nationwide – these feature info on the book
LONG WAY DOWN
by EWAN MCGREGOR & CHARLEY BOORMAN
LONG WAY DOWN won the British Book Award for MOST POPULAR NONFICTION of 2007
09/22/08
OPERACION VALKYRIA(英文书名: OPERATION VALKYRIE)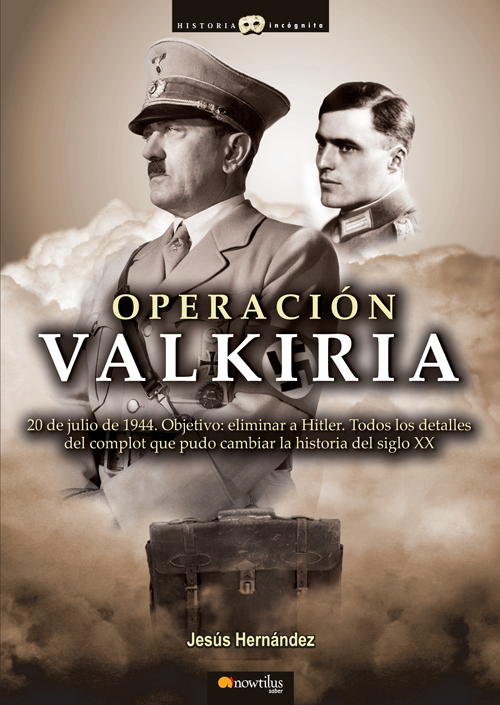 ALREADY AVAILABLE !!: "OPERATION VALKYRIE"
MOVIE TIE-IN!: "Valkyrie"
(United Artist, Tom Cruise)
http://valkyrie.unitedartists.com/
The book to learn the true historical facts behind the VALKYRIE OPERATION
In the gripping historical fiction thriller, Operation Valkyrie, Jesús Hernández relates the details, personalities and motivations behind the VALKYRIE conspiracy, combining his penchant for exhaustively thorough research with a nail-bitingly suspenseful writing style, to make this book a true "best selling" page-turner. An extraordinary, richly illustrated and accurate account of Colonel Claus Scheck von Stauffenberg's conspiracy to eliminate Hitler, Himmler, Göring, and neutralize the SS to stop the war.
Jesus Hernandez, best selling Nowtilus author, and probably the best Spanish author World War II titles for general public, has done on-site research for months in both Germany and Poland, to write the most accurate story of Coronel Claus Scheck von Stauffenberg conspiracy.
ISBN: 978-84-9763-520-2
Key highlights
1- Nowtilus "Operation Valkyrie", by well known expert Jesus Hernandez is the result of author´s "on-site" research in "ground-zero" of the failed assassination attempt. Further to a one year full-time documentation effort (on top of author´s previous expertise on WWII episodes), the author spent four months in Germany and Poland doing on-site research. This effort facilitated the trilling style and the very vivid descriptions readers will find in Jesus Hernandez Valikyrie book.
2- Jesus Hernandez made a conscientious effort to combine his usual authoritative style -as a WWII history expert- with journalism and literary style, to make the book a true "best selling" style page-turner. Throughout the book readers will encounter passages written in a captivating suspense-novel style, used by the author to create narrative tension.
3- The title clearly frames this episode as part of the anti-nazi resistance movement, describing the details of the various conspirational groups and plots to kill Hitler. It is not just a description of Von Stauffenberg episode, but a colorful narration of the military resistance network and the conspirators.
4- The failed assassination attempt is particularly narrated with an genuine cinematographic writing style.
5- In contrast with other books on the subject, Jesus Hernandez Valkyrie title covers the details of the tragic destiny of each of the participants accused and arrested by furious Hitler´s Gestapo.
6- Also in contrast with other books on the subject, this work throughoutly examines the various reasons for the failure of the "coup".
7- Readers will find in this book a complete guide of related locations to visit ( a sort of "Valkyrie touristic guide") and a list & description of Hollywood movies inspired in this episode of history.
8- The book also includes a complete A-Z list of all people involved, with a short briefing.
June 20, 1944. A key man: Coronel Claus Schenk von Stauffenberg.
The objective: Eliminate Hitler. All the details of the conspiracy that could have changed the history of the 20th Century.
Author: Jesús Hernández
Historical Essay / Popular History
Size: 17 x 24 cm
R.R.P.: 23,95 US$
Format: Papereback with flaps.
Pages: 320, with over 90 illustrations & photographs
ISBN: 978-84-9763-520-2
Series: Historia Incógnita www.historiaincognita.com
Publishing Date: September 2008
The year is 1943 and Coronel Claus Schenk von Stauffenberg has just been transferred to Berlin to serve under General Friedrich Olbricht, member of a resistance committee that begins to lay out a plan to assassinate Hitler. Olbricht already has more than 200 recruits in different levels of German society, including in the intelligence and counterintelligence divisions of the military. The objective is to eliminate Hitler, Göring, and Himmler, neutralize the SS, and install a provision government that would try to make peace with the West and stop the war.
Von Stauffenberg, despite his war injuries (he has lost an eye and several fingers on one hand), wants to carry out the assassination. The conspirators have their doubt: Is he capable of activating the bomb? They finally concede to letting him do it because they understand that his handicaps will reduce outside suspicions.
After July 1st, von Stauffenberg makes several attempts at completing his mission, but is never able to catch the targeted victims together at the same time. Finally, though, on July 20, 1944, the perfect opportunity presents itself. .
In Operation Valkyrie, Jesús Hernández successfully relates the details, the personalities, and the motivations behind this conspiracy, which the reader follows step by step until the ill-fated ending.
Jesús Hernández is a historian and journalist who, in a short period of time, has become the author who has sold more books on World War II in Spain than any other. With a degree in Contemporary History and Information Sciences, he has published various book dealing with this conflict, including Las cien mejores anécdotas de la Segunda Guerra Mundial (2004), Hechos insólitos de la Segunda Guerra Mundial (2005), Enigmas and Mysteries of World War II (2006), A Brief History of World War II (2006), Astonishing Stories of World War II (2006), and All That You Should Know about the World War I (2007). These last four publications are from Ediciones Nowtilus.
ROUNDING WITH OSCAR
Lessons Learned from a Cat on Aging and Dying
by David Dosa
封面暂缺
Oscar the Cat received a special mention in USA Today, in a box next to an article about Dewey the Library Cat – with a nice quote from Ellen Archer, president and publisher of Hyperion.
Here's a direct link to the story —
http://www.usatoday.com/life/books/news/2008-09-17-dewey-the-library-cat_N.htm
AND THEN THERE'S OSCAR

While Dewey spent 19 years patrolling the Spencer Public Library in Iowa, another cat has held down a different kind of job on the East Coast. Oscar arrived at the Steere House Nursing Center in Providence three years ago.

His claim to fame? An uncanny ability to predict when residents are about to die. Just by sitting at their bedside he alerts staff to gather family around. He also stays with dying patients who have no family.

His story is being told in Rounding With Oscar by David Dosa, a senior physician at Steere House. It will be published by Hyperion in May. Dosa first wrote about Oscar's "talent" in a medical journal. People magazine followed with a feature on the black-and-white cat.

Ellen Archer, president and publisher of Hyperion, calls it an "incredible story" and says books about animals and their power to comfort are big in publishing these days. Jon Katz's Izzy & Lenore: Two Dogs, an Unexpected Journey, and Me is a tale of two dogs working their magic in hospices, and will be published Tuesday.

By Craig Wilson
09/15/08
Posted: Tue., Sep. 9, 2008, 6:59pm PT
Disgrace
(Australia) An Icon Entertainment Films (in Australia)/Maximum Films (in Canada) release of a Fortissimo Films/Film Finance Corp. Australia presentation of a Wild Strawberries, Sherman Pictures, Disgrace production, in association with the New South Wales Film and Television Office, the South Australia Film Corp., Do Prods. (International sales: Fortissimo Films, Amsterdam.) Produced by Anna-Maria Monticelli, Emile Sherman, Steve Jacobs. Executive producers, Julio DePietro, Wouter Barendrecht, Michael J. Werner. Co-producers, Brigid Olen, Marlow De Mardt.
Directed by Steve Jacobs. Screenplay, Anna-Maria Monticelli, from the novel by J.M. Coetzee.

With: John Malkovich, Jessica Haines, Eriq Ebouaney, Fiona Press, Antoinette Engel, Natalie Becker.

A dissolute Cape Town academic confronts the changing face of South Africa and the darkest recesses of his soul in the absorbing drama "Disgrace." Anchored by another marvelously quirky yet deadly serious performance from John Malkovich, and likely to be relished by the fan base of J.M. Coetzee's Booker Prize-winning novel, this is a strong, perceptive, old-school arthouse pic with solid legs in all media.
Well-dressed romantic poetry prof David Lurie (Malkovich) lives life with a languid mix of ennui and contempt that masks the troubled soul of a racist and predator. When an ill-advised, heavy-handed affair with a student (Antoinette Engel) is revealed, he accepts severe punishment with remorseless defiance.
Impulsively deciding to visit his grown daughter, Lucy (noteworthy newcomer Jessica Haines), at her remote Eastern Cape farm, Lurie's world is shattered further when a seemingly random attack by three youths leaves both father and daughter physically and emotionally broken.
Bravely and rightly eschewing narration, scripter Anna-Maria Monticelli and helmer Steve Jacobs (married producers whose previous pic was the effervescent 2003 comedy "La spagnola") have distilled Coetzee's tough novel into a focused, absorbing meditation on race, class, history and sex.
Malkovich is a living symphony of tics and mannerisms in service of a profoundly self-absorbed character, yet never upstages Haines or the fine supporting cast.
Tech charge is lead by Steve Arnold's fine, deep-focus widescreen lensing on rugged South African locations.

Camera (color, widescreen), Steve Arnold; editor, Alexandre De Franceshi; music, Antony Partos, Graeme Koehne; production designers, Mike Berg, Annie Beauchamp; sound (Dolby SRD), Sam Petty. Reviewed at Toronto Film Festival (Special Presentations), Sept. 6, 2008. (Also in Pusan Film Festival.) Running time: 118 MIN.

Read the full article at:
http://www.variety.com/story.asp?l=story&r=VE1117938287&c=31
© 2008 Reed Business Information

简体版权已售出
Grove Atlantic are doing yet another reprint of 30,000 copies of the US edition of THE GATHERING. This will be their 14th printing, bringing the total in print in the US to 393,572.
09/12/08
Film rights to Lauren Weisberger's novel CHASING HARRY WINSTON, to Universal Pictures, for Andy Tennant (Fool's Gold; Hitch) to direct and Mandalay Pictures to produce, with Gina Wendkos adapting.< ?xml:namespace prefix = o ns = "urn:schemas-microsoft-com:office:office" />
09/10/08
09/08/08
Newest Title + Manuscript Available!
LOVE BEGINS IN WINTER by Simon Van Booy
A newest addition to the great titles we represent is a vibrant new collection of stories, LOVE BEGINS IN WINTER, by emerging author Simon Van Booy. HarperCollins is very, very excited about Love Begins in Winter, as it is the follow up to Simon Van Booy's highly praised first collection of short stories The Secret Lives of People in Love. There are already a lot of interest in this beautiful new book, especially the titlestory, which is being considered as a novella in France and the basis for a film script in LA. I hope that you enjoy this amazing work!