06/28/08
Books Briefly Noted
The New Yorker ~ June 23, 2008
McMafia
by Misha Glenny (Knopf; $27.95)
Citing estimates that the world's illicit economy accounts for nearly twenty per cent of worldwide turnover, Glenny tracks the spread of sophisticated transnational criminality. The collapse of Communism and the deregulation of financial markets have created rich opportunities for the criminally entrepreneurial in Eastern Europe, the Middle East, Africa, Southeast Asia, South America, and even fleece-wearing British Columbia. Meanwhile, criminal organizations, cannily mirroring the practices of their legitimate counterparts, have exploited economies of scale, developed worldwide partnerships, and cultivated new markets. As a result, bank fraud, human trafficking, protection rackets, narcotics smuggling, state-sanctioned embezzlement, assassinations, and even old-fashioned political corruption are practiced today on a scale previously unimaginable. Without "some form of global governance," Glenny grimly concludes, the prosperous West's appetites will insure the continued existence of the flat world's sordid and dangerous flipside. ♦
See earlier Blog: http://update.bigapple1.info/?p=18
The Culture of War by Martin van Creveld
Presidio Press Hardcover
ISBN: 978-0-345-50540-8
Publish Date: 9/30/2008
http://www.bigapple1.info/intranet/intraneta/asp%20page193.asp?searchbook=40851
Rights sold to date: Dutch (Het Spectrum); Portuguese-Brazil (Globo).
Hebrew University's van Creveld remains unsurpassed as a scholar of war. In this provocative volume, he challenges perhaps the subject's single greatest shibboleth… Van Creveld demonstrates that war is an essential element of history, rooted in psychology. In a tour de force of scholarship and insight, he takes readers through the processes of preparing for, waging and commemorating war.
—Publishers Weekly (Starred)
"An excellent read, strongly recommended to comprehend the broad cultural setting of today's 'Wars Amongst the People' that is so necessary for waging a successful campaign and attaining victory."
—General Sir Rupert Smith KCB DSO OBE QGM, author of The Utility of Force: The Art of War in the Modern World
"Others love peace so much that they protect it with a bodyguard of lies about war. Martin van Creveld tells the truth. He explains why 99% of wars have been fought by volunteers: combat can be wonderful. But when it turns grim, a culture of war—everything from fifes & drums to a compelling sense of manly honor—is needed to sustain fighting morale. There is no survival without it—not on this planet."
—Dr. Edward N. Luttwak, author of Coup d'État: A Practical Handbook and Strategy: The Logic of War and Peace
"In The Culture of War, the incomparable Marvin van Creveld is in top form–provocative, informative, stimulating."
—John Whiteclay Chambers II, Rutgers University, Editor-in-chief of The Oxford Companion to American Military History
"In The Culture of War, Martin van Creveld brilliantly overturns the notion that war is merely the extension of politics by other means."
—William S. Lind, Military theorist
For more than 30 years Martin van Creveld has been one of the world's foremost military thinkers. His Supplying War and Command in War remain today the seminal works on military logistics and command and control. In The Culture of War, van Creveld once more shows an exceptional mastery of his subject as he explores a vital but rarely acknowledged aspect of war, its deep-rooted culture. As he did in his provocative, The Transformation of War, van Creveld takes on the Prussian strategist Carl von Clausewitz; this time arguing that Clausewitz's premise that wars are fought only for political ends fails to recognize that war is also an end in itself. That end he maintains is represented in war's culture, a culture of fear, excitement, weapons, organizations, history, traditions, and much more that are melded and infused into the minds of those who take up arms. Van Creveld presents his case powerfully and convincingly with a rich mixture of historical and contemporary examples. Citizens and soldiers alike will find this book informative, novel, and thought-provoking. I consider it a must read for every military professional.
—Lt. Gen. Paul K. Van Riper, U.S. Marine Corps (Retired)
Martin van Creveld continues to give us insight in the many facets of war. Each time he adds another dimension, sharing his broad knowledge and brilliant analytical mind. The Culture of War brings us another step into understanding the underlying issues.
—Dr. Joel P. Wyler, Chairman Granaria Holdings B.V.
"This splendid volume affirms what we already know: Martin van Creveld is the most creative, most insightful, and most important military historian writing in English today."
—Andrew J. Bacevich, author of The New American Militarism: How Americans Are Seduced by War
"Martin van Creveld has written another brilliant and unique work that, again, provides insight and perspective into the understanding of war. Few strategists have his depth of knowledge, research discipline, and analytic ability. The Culture of War will be another classic and required reading for all those that need to truly understand the nature of conflict."
—General Anthony C. Zinni USMC (Retired), author of New York Times Bestseller The Battle for Peace
Total worldwide English-language sales of THE GATHERING have now reached the fabulous figure of 759,000!
http://www.bigapple1.info/intranet/intraneta/asp%20page193.asp?searchbook=38382
简体 SOLD!
NON-FICTION: MEMOIR
Novelist Kristen den Hartog and her sister Tracy Kasaboski's THE OCCUPIED GARDEN, a true story set in Nazi-occupied Holland similar to Irene Nemirovsky's SUITE FRANCAISE, centered around the authors' grandparents and showing the everyday acts of courage and sacrifice displayed by millions of ordinary Dutch people, to Joel Ariaratnam at Thomas Dunne Books for publication in Spring 2009, by Denise Bukowski at The Bukowski Agency (US).
How Can Publishers Embrace Web 2.0? "Just Do It"
by Lynn Andriani — Publishers Weekly, 5/30/2008 11:19:00 AM
Thursday's Web 2.0 panel at BEA brought together an author, a magazine publisher and the marketing director of a books social networking site to talk about Web 2.0 and the wisdom of crowds—and how traditional publishers fit in. Jeff Gomez, senior director of online consumer sales and marketing at Penguin Group, moderated the panelists, who all agreed—despite their different businesses—that "crowd sourcing" can bring big rewards to publishers.
Fray.com (which exists in print and online) publisher Derek Powazek, Shelfari v-p of marketing Dave Hanley, and author Scott Sigler (Infected) talked about how traditional publishers need to change their business model as consumers grow increasingly used to consuming an enormous amount of information from countless Web sites and blogs, for free. As Gomez said, "Free is the new buzz word." Yet, he asked, "The phone book should be free, but should a novel?" Sigler should know; he has given his novels away free via podcasts, with great success (more than 20,000 people have tuned in). He said that while there may not be a good reason for well-known authors to give content away at no charge, lesser known authors have much to gain. Giving content away "gives people the ability to try out your stuff," Sigler said.
When Gomez asked the panelists how publishers can compete in a world where people are willing spend their time writing for Wikipedia, a website or blog, for nothing, Powazek, who has acted as a consultant on Web community features for Netscape, Lotus and Sony, responded that publishers must embrace that new generation of "people who come to media expecting participation." They must look at publishing books as creating relationships with people, "not just ink on paper."
Hanley, who said the average user spends nine and a half minutes each time they visit Shelfari, urged publishers to engage with their customers. He himself regularly interacts with Shelfari members, offering and receiving book recommendations. "Just get out there and do it," he said. "You only learn by doing."
CHE GUEVARA "GUERRILLA" movie news
THIS WILL BE A BIG MOVIE !!
The very good news is the forthcoming CHE GUEVARA movie.
A big movie about CHE, by famous director Steven Soderberg , with actor Benicio del Toro: (just released in Cannes Film festival).
To be released worldwide later this year.
This movie may be the Cannes festival winner this year (read last internet link). Keep an eye on it !!.
http://www.imdb.com/title/tt0374569/
http://www.festival-cannes.fr/en/archives/ficheFilm/id/10803637/year/2008.html
http://www.filmofilia.com/2008/05/12/benicio-del-toro-as-ernesto-che-guevara-first-photos/
TWO CHE GUEVARA books available:
The big one, "CHE GUEVARA", by Reginaldo Ustariz: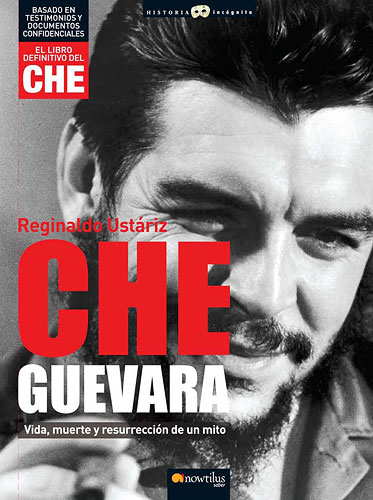 http://www.nowtilus.com/pags.php?d=O865O865
A new just released BRIEF HISTORY of CHE GUEVARA: